Home
Welcome to Dumaguete Springs Beach Resort!
Check out our eight comfortable european-style bungalows and see the difference! We offer all the amenities you need for a relaxing stay at the beach making it the perfect place to unwind, relax, and enjoy the beauty of the tropical environment. Around the resort, you will find Coconut trees and a tropical lushness surrouning the venue, which is an ideal refuge for the family. The resort features a beautiful free-form swimming pool, jacuzzi, verdant garden, pool table, darts and an own private beach, private jetty and coral reef. We now also have high speed internet access at the resort!
We are just a short drive away from Dumaguete City, with an active night life, restaurants, ferries and plenty of shopping malls. The staff will be more than happy to arrange for you a motorbike or car to rent during your stay.
If your looking for a relaxing Beach Resort near Dumaguete City, then you will find it here at Dumaguete Springs Beach Resort. Feel at home in one of our very comfortable european-style bungalows, where the staff and service will make you feel at home yet in paradise. Between our Verdant Gardens, Pool, Jacuzzi, Pool Table, Darts and our own Private Beach of course, There is something for everyone. We have a Private Jetty and Coral reef for those that want to go exploring in the waters be it scuba diving or snorkeling.  Each of our rooms also has access to high speed internet via wifi, so while your in paradise you can still keep in touch with those loved ones that are not with you.
Our Available Accommodations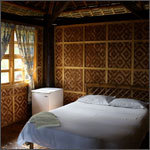 Standard Rooms
From Php 2,400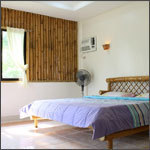 Superior Rooms
From Php 2,700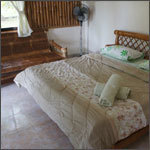 Deluxe Rooms
From Php 2,900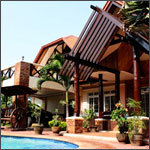 Main Beach House
From P12,000/night

Dumaguete Springs is your venue for ultimate beach fun and activities! Our authentic tropical style beach huts are constructed with comfort and luxury in mind. Our rooms are located under palm trees at the fence line of the resort and only 5 meters away from the beautiful waterline and boat jetty at the beach.
Within the resort is our pool which is not only the perfect place for sun bathing & swimming, but also ideal for teaching the first steps of diving. With its 3 meters of depth, it offers just the right conditions for all necessary exercises practiced in a diving course to make you a good and safe diver. In front of our Resort you will find our house-coral reef where you can snorkel and dive the whole day. Note: Available at our Resort only. Please click here to know more about Diving with us.
Virtual 360° Tour
On Mobile: Touch and drag the virtual tour screen to pan around the scene. Pinch in/out to zoom in/out. On PC/Mac: Click and drag mouse/trackpad to pan around. Use mouse screel wheel to zoom in/out. Click the arrow hotspots to move to the next scene.
Experience Awesome Diving at Dumaguete Springs
Hello everyone! Well it happened again! These photos were taken by one of our returning guests, Fabrice Perez. Taken yesterday morning, sept 25 2017, almost right in front of Dumaguete Springs beach resort, where our dive shop is situated. It stayed with us for 30 minutes. Amazing!! Thank you for the pictures fabrice!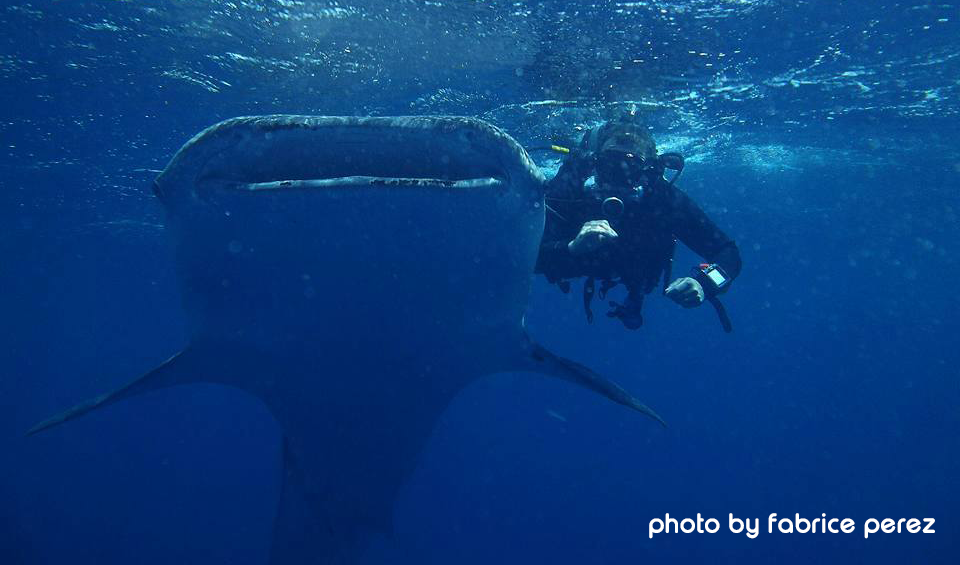 Great video of Apo Island taken with a drone courtesy of our guest and good friend James Baldwin.
Looking forward to welcoming everyone snorkelers and divers alike to truly enjoy the best the Philippines has to offer.
Mabuhay!
Curious about the underwater world?  Want to try breathing underwater? This is where it all begins..this is your first step to the Underwater World
You will learn safety procedures with basic dive theory and some shallow water exercises before having a scuba dive  while under professional guidance. Come and dive with Dumaguete Springs!
Department of Tourism Certification
Special Interest Resort Accreditation
On January, 2015, The Department of Tourism has accredited Dumaguete Springs Beach Resort as a SPECIAL INTEREST RESORT. We are glad to share this news to everyone! Visit us to find out for yourself and experience the best resort this side of the country.
Experience the best accommodations, friendliest staff, great ambiance and overall beach life experience! Only here at Dumaguete Springs Beach Resort!